In Malaysia, several lorry rental services provide different types of trucks to meet growing demand for product delivery across the country. If you require a truck delivery service, there are many things you need to consider before you approach one of the logistics companies in Malaysia. The most important thing you need to note is that you must have an idea of the type of lorry that will best meet your cargo needs.
Next time you think about contacting a delivery truck hire company to transport your goods, these are different types of trucks you can consider:
Flatbed Truck
You have probably seen this truck transporting goods around town many times. It is a popular type of lorry, and it is used by several logistics company in Malaysia due to its versatility. The flatbed truck has no sides or roof, which makes it easy to load goods from the back, the sides and from the top. It is suitable for transporting oversized goods such as construction materials, and it has a loading capacity of 15-25t. The flatbed truck is not very easy to drive, so you might want to consider a lorry rental with driver service.
Lowboy Trailer
The lowboy trailer is used to transport tall commodities, a feature which is evident in its design. Lorry rental services use this trailer to move goods that have exceeded the allowed height limit of products frequently transported using a flatbed truck. And, like a flatbed truck, it can be loaded for the sides, the back and from the top.
Semi-Trailer Truck
The semi-trailer truck is the most unarguably the most commonly used type of lorry in Malaysia. It serves many purposes and comes with a unique tent cover. Without the tent cover, the semi-trailer can be likened to a big pick-up truck. It can be loaded from the back, the sides and from the top (when the tent cover is removed). It has a maximum load capacity of about 24,000 kg and can be used to move palletized cargo.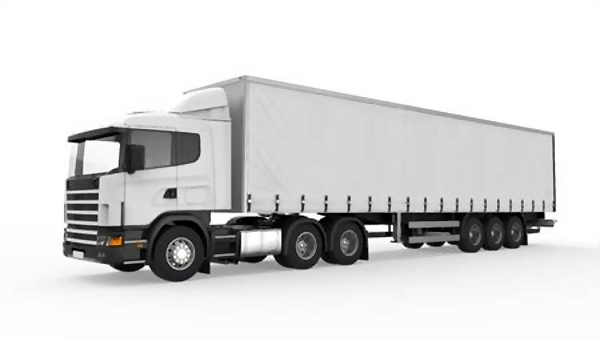 Straight Truck
Commonly referred to as a cube truck, cube van or box truck, it is well suited to carrying freight on the same chassis which also has the power and cab unit. The straight truck can only be loaded from the back, and hence is perfect for moving small items like furniture and other household items. Most lorry rental service in Malaysia makes use of the straight truck for moving, as they are the most preferred choice for many people when relocating due to it being more secure than other types of Lorries.
Tail Lift Truck
Lorry transport companies mostly use the tail lift truck for distribution transport. It features a lifting mechanism that makes it easier to lift freight or cargo. The lorry can carry a maximum weight of 500 to 2,000 kg depending on the tail lift that is attached to it.
Refrigerated Trucks
Refrigerated trucks are a unique mode of transportation used by truck delivery services to move products in a frozen state. These trucks have a temperature control unit that allows the driver to regulate the temperature inside the trailer. A refrigerated truck is used to transport perishable items like vegetables, to maintain their quality. Renting this truck is quite expensive due to fuel consumption.
Truck Trailer
The truck trailer has one of the most significant loading volumes, and it is designed to help you load and unload cargo faster. This truck has a capacity of 16-25t. It is covered and thus protects your freight from getting damaged by the elements.
The type of cargo you want to transport must play a key role in choosing the best truck for its transportation. For you to make the right decision when you contact a lorry transport company, you must know the different types of lorries that are available in Malaysia and their capabilities. Before selecting a lorry delivery service, it is best to first carefully consider the type of items to be transported and the most suitable lorry for your cargo.
At Spots, get connected to professional transporters and logistic companies in Malaysia. Based on your cargo type, these companies will arrange and organize the correct truck for your cargo.
Do visit us today! We believe in Simplifying Deliveries.